The Trail Tote Story
Over the past thirty years, I've traveled to Upstate New York for the annual Salmon run.
My first time there, I fished with my now good friend, Tom, the owner of Cold Steel Sport Fishing, alongside many other fishermen and lovers of the outdoors.
At the end of each fishing day, I'd watch as the people around me dragged away their catch of the day – noticeably, most people walked away with their limit of three Salmon each day despite the abundance of fish up for grabs.
This is understandable, considering that the Salmon that make their way along the rivers in Upstate New York during fall often weigh 20lbs or more, and can grow well up to 30 plus inches long.
Moreover, without a suitable carrier for the fish, I'd observe other fishermen along the river – hoist their prizes away via a makeshift carrying contraptions. A common method among, was to tie the coveted catches to a branch and drag their prizes away.
Each year, attending the annual Salmon run in Upstate New York is one of the highlights of my year – but each time, dealing with the day's prizes when it's time to pack up for the night is easily the least enjoyable part.
Especially when you've worked hard to procure the best catches possible, it's disheartening to have to drag your catches back to your mode of transportation, across the brush, over rocks, across gravel and a number of other fish-damaging terrains, knowing that the damage to the meat will be tremendous, and there's nothing you can do about it.
And often – since the limits of a branch as a carrying device are many – it's not a straightforward journey, as you simultaneously deal with the anxiety of the branch snapping, or the fish coming unattached.
In addition to being disheartening, it's tiring. As you switch your makeshift carrier from hand to hand, and your muscles wear under the weight of the day's catches, you just wish that you had something better to transport your prizes back, to make the end of your otherwise immensely enjoyable fishing trip less of a drag.
I had this exact thought on my first Salmon fishing trip with Tom, and so, I told him, "Someone needs to create a pack so that we can transport our fish home – a hands-free system that's easy to transport, and that protects the fish." Tom replied, "Make one."
Year after year, as we continually returned to our beloved fall fishing spot, we would end up having the same streamside banter and conversation. I would say that we needed a fisherman-friendly pack, and Tom would always reply as the previous year: "Make one."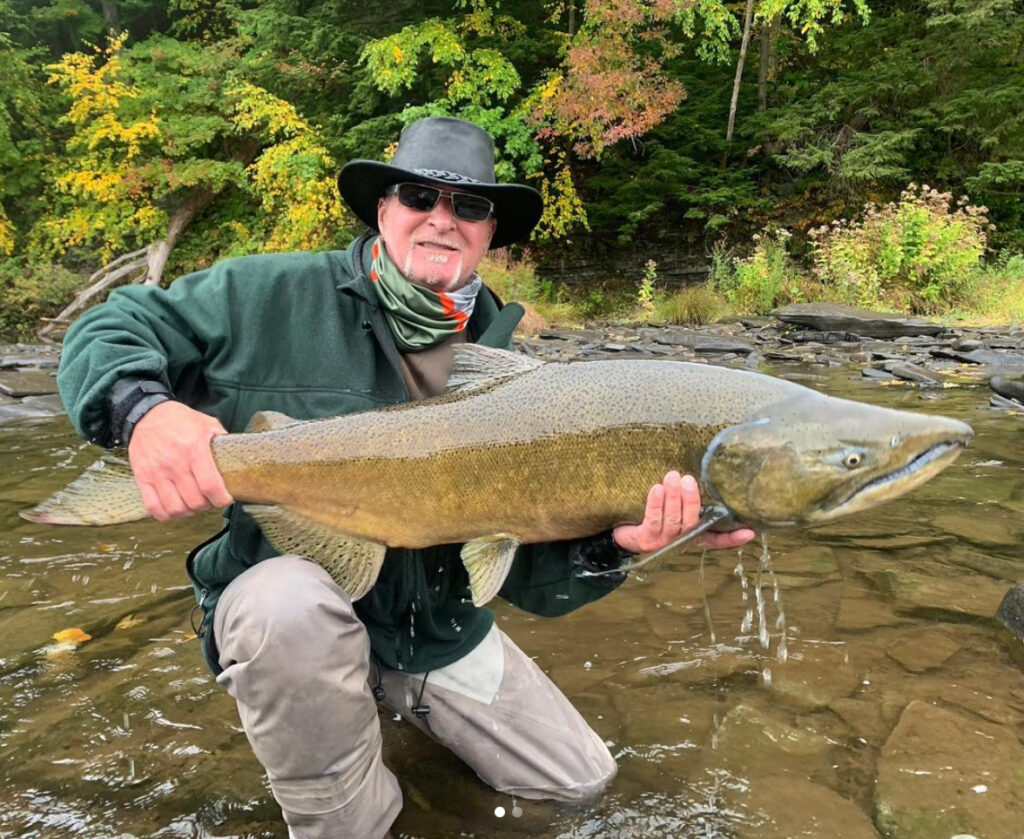 Darren – Trail Tote Creator
This year, I decided to go for it.
During this process, many different designs were tried, until – finally – the Trail Tote was born. The Tote first evolved from a basic garage Starboard design complete with 3 garage bicycle hooks attached with a rope strap, to what we have today, a simple, practical, durable and easy-to-use design that caters to the needs of every type of gear-carrying, trophy-winning outdoorsman.
Constructed with 3mm Neoprene, covered by a polyester fabric, Trail Tote is complete with 1.5″ adjustable, heavy-duty webbing that can open to a maximum of 36″. In addition to this, Trail Tote is equipped with a 1″ sternum strap, as well as 4 interior loops to tie up to 75 pounds of just about anything. Yet, despite its simplistic design, Trail Tote is machine washable, to make your life even easier.
Most importantly, Trail Tote is designed to remain open at both the top and bottom, so if your game – or gear – is longer than the 24″ height of the Tote, it can still hang comfortably below.
Trail Tote is for more than the enthusiastic fisherman. Since the outdoorsman is often a jack-of-all-trades, the Tote is designed with small game hunters, trappers, hikers, fishermen, kayakers, campers, and all-round nature lovers in mind. In short, it's for anyone who could do with an extra pair of hands while they're adventuring in the great outdoors.
Trail Tote is the newest essential piece of gear for any outdoorsman – once you add it to your collection, you'll wonder how you survived without it.
Remember—
"IT DOESN'T HAVE TO BE A DRAG"!